Does your cat have any of these problems?
Please choose all that apply
Have you noticed any change in behaviour in your cat?
Please choose all that apply
See my results
Back
Your cat's assesment matches some of the signs of arthritis pain
We highly recommend taking your cat to the vet for a full check up. Use this handy checklist to help your vet understand what's happening and whether pain management is required.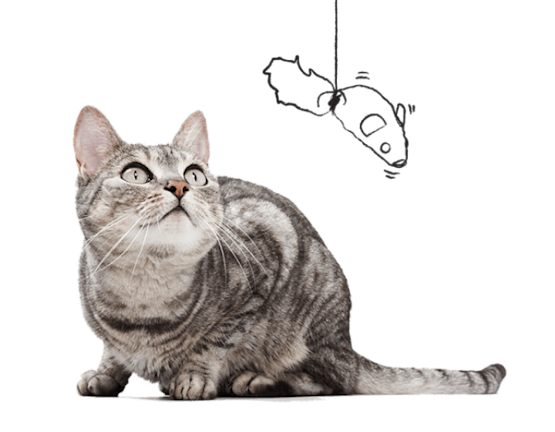 Zoetis arthritis checklist

Your cat's symptoms
Send my checklist
We can email you a copy of your cat's symptoms checklist to talk through at your next vet visit. Keeping a record of symptoms can help you monitor whether your cat is getting better or worse over time.
Enter email address
Learn more about how we use your data
How arthritis is treated in cats
Find out how your vet can manage the pain caused by your cat's arthritis using the latest treatments and how this might change over time as your pet gets older..
Find out more
Thank you!
We have sent your report to

Check another cat
Zoetis arthritis checklist
Your cat's symptoms

Difficulty jumping up

Difficulty jumping down

Difficulty going up stairs

Difficulty going down stairs

Difficulty chasing moving objects

Difficulty running

Is less playful

Has trouble sleeping

Has accidents outside litter box

Is more aggressive

Taking less care of grooming.
REMEMBER
to also discuss with your vet...
If your cat has been injured
Any injury or dislocation affecting your cat's joints can increase their risk of developing arthritis
Your cat's diet
It's important your cat has a healthy diet so that they maintain an optimum weight. Being overweight can put extra pressure on joints which can lead to arthritis
Any medication or supplements your cat is taking for joint pain
As there is no cure for arthritis, it's important to regularly talk through your cat's pain management plan with your vet. With advancing medical treatments and other environmental changes you can make, your vet will advise on how you can maximise your cat's quality of life.
Good news!
Based on your answers, it's unlikely your cat has arthritis
Check another cat
Thanks for taking the time to assess your cat. We hope we've helped you to help them live a more enjoyable life.
visit zoetispets.com